For my birthday this year, my wonderful son gave me Cirque Shanghai tickets, so I got to go to Navy Pier this weekend!
The day before we had terrible thunderstorms, and our power at home was knocked out for 24 hours, but on our Navy Pier day, the weather was perfect for enjoying all the sights and sounds of downtown Chicago.
It was the first time my husband and I had been downtown in probably 15 years or more. For many reasons, we almost never get to kick back and have fun, so I decided not to worry as much as usual about money and let loose a little to give us a day out like "normal" people.
We left our house at around 3:00 so we would have plenty of time to walk around the pier and see all the new things, and we had such a blast!
On the way there we drove past the Art Institute lions on Michigan Avenue, and yes, they're still sporting their Blackhawks head gear.
There is still Blackhawks
everything
going on around Chicago and the actual Stanley Cup has been sighted all over the place. The team is full of very young players and they're definitely prone to partying!
Anyway, back to us. I was starving, so the first thing we did when we got to the Pier was stop in at the Billy Goat Tavern. Even though I was born in Chicago and my husband has lived in the Chicago area most of his life, neither of us had ever been to any of the Billy Goat locations before, so I'd say it was about time we had a cheezborger
! We ordered a cheezborger, chips and no Coke, Pepsi, just like in the old John Belushi Saturday Night Live skit. Th
ere was indoor seating and patio seating, and my husband was letting me pick what to do because it was "my birthday" day, so I decided we should eat outside and do a little people watching. It was a great choice. We sat back and enjoyed the diverse, colorful and happy people walking by and discovered that couples old and young alike are choosing Navy Pier and the beautiful Odyssey II as the location for their wedding receptions these days.
http://www.vacationsmadeeasy.com/ChicagoIL/activity/ChicagoOdysseyLunchDinnerCruises.cfm
After we finished eating, we strolled up and down the pier and took in more of the sights and sounds. We went inside after a while to escape the sun for a few moments and found Ryba's fudge. Being a hopeless chocohaulic, of course I had to buy some! Then we saw the Stained Glass Museum. I just couldn't belive all the beautiful artwork.
http://sherylgwyther.files.wordpress.com/2009/10/stained-glass9.jpg
Garrett's Popcorn was our next stop. Garrett's is famous for its delicious Caramel Crisp popcorn, and it is scrumptious. I got a large bag so I could share it with my dad, who is a caramel corn buff.
At 8:00 it was time for us to take our seats at the outdoor Pepsi Skyline Stage to see Cirque Shanghai. My son got me 8th row center seats, which was perfect for seeing everything very clearly.
http://www.chicagostagereview.com/?m=200808
After the show it was dark, so we decided to take a ride on the
150-foot-high Ferris Wheel
. My husband will ride the wildest roller coaster ever made, but he is very nervous about Ferris Wheels. But again, he said it was my night and he would do anything I wanted, so I voted we go for it. I think his knuckles were white even before he stepped into our huge, private cage, but he did manage to relax just before it was time for us to exit the ride. I even managed to loosen him up long enough to wrangle myself a kiss at the top!
http://www.planetware.com/picture/chicago-navy-pier-us-ilch408.htm
When the ride was over, it was time for the weekly fireworks display, so we sat down and watched a fabulous, musically choreographed show.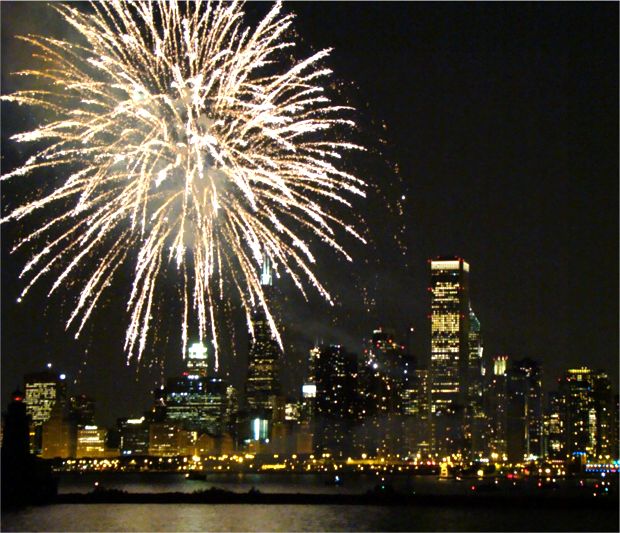 http://www.dnjournal.com/
Chicago is a beautiful city with so much to offer, and we had a great time soaking it all in. Tired and sad that my "fun day" had come to an end, as we were exiting the $24 parking garage with our $15 fudge and $9 carmel corn, I realized why we can only visit about once every 15 years or so now. Although ... I've already put the word out that I'd love a pair of Billy Elliot tickets while the show's in town. ;)