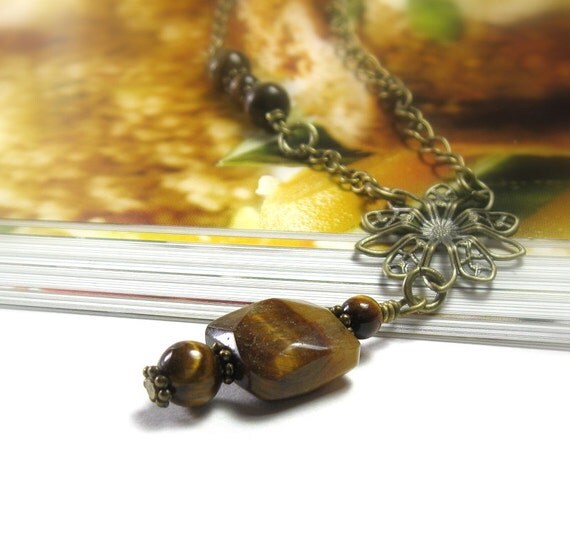 Fabulous light reflective tiger eye quartz is the focus of this unique vintage style necklace. A .5 inch (12.7 mm) faceted square stone nestled between two tiger eye rounds forms the drop, which is held to the dual antiqued brass chains by a floral connector. Three more rounds decorate the chain along one side. Necklace is approximately 18 inches long (45.7 cm) and closes with a lovely floral toggle clasp.
Quartz that is formed not of one single crystal but a number of finely grained microcrystals is known as chalcedony. Tiger eye is a member of this beautiful group of semi-precious chalcedony.
Tiger eye is said to be a balancing stone that offers light to dark energies, calm fears, gives perspective to upsetting circumstances and helps wearers become more attuned with planetary energies, serving as a bridge linking sky and earth energies.
Other claimed benefits of Tiger Eye:
Provides clarity
Balances solar plexus chakra
Promotes intuition
Yin yang balancer
More jewelry by NaLa:
http://jewelrybyNaLa.etsy.com