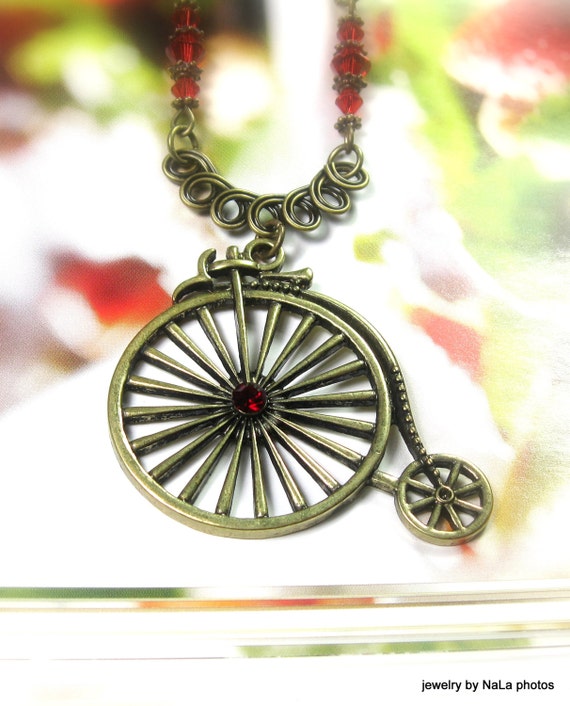 Handmade vintage style necklace featuring a fabulous 53 x 46mm antiqued brass Victorian penny farthing high wheel bicycle. The center of the charm features a sparkling, faceted red Swarovski crystal. An antiqued brass Celtic knot connects the antiqued brass chain, holding more red Swarovski crystal bicones. Necklace is approximately 21 inches long(53.3 cm) and closes in back with a lovely floral toggle clasp.
Brief history of the high wheel bicycle:
French and English high wheel bicycles dominated the market in the mid 1800's. Known as the Penny Farthing bicycle in England due to the large and small coins/wheels, the dangerous nature of these bicycles (as well as Victorian mores) made cycling mainly the preserve of adventurous young men. In the United States, Bostonians such as Frank Weston started importing bicycles in 1877 and 1878, and Albert Augustus Pope started production of his "Columbia" high-wheelers in 1878, gaining control of nearly all applicable patents. Despite being hazardous to ride, by 1884 high-wheelers were relatively popular among a small group of upper-middle class people in all three countries, the largest group being in England. Their use also spread to the rest of the world.
More jewelry by NaLa:
http://jewelrybyNaLa.etsy.com